Our July 21st meeting was held at Omega Brewing in Omro as Steve graciously hosted us for a club beer competition! Over 20 of you thirsty SOB's attended expecting to fill your gullets. More on that later. First, let's power through the business portion…
For those who couldn't attend the 30th SOB Anniversary party at Fifth Ward, you missed a hell of a good time! Lots of camaraderie between past and present SOB's, speeches made by outgoing and incoming presidents, and there was even some beer bottling action! On a side note, the club sold a lot of merchandise ($195 worth to be exact) and inventory is running low. The board will put together a few proposals in order to restock, so stay tuned. Can't wait for the next anniversary party!
Friendly reminder to pay your membership dues if you have not already. Kurt was handing out official laminated membership cards to those who have ponied up the $20. If you have paid your dues and haven't received your card, please see Kurt at the next meeting!
Lastly, before we get into the competition recap, here's a look at what you SOB's have to look forward to in the coming months:
Club Picnic – August 18th, Kiwanis Shelter Menominee Park
Club Cider, Mead, and Wine Competition – September 15th, Rushford Meadery
Fall-themed Beer & Oktoberfest Meeting – October 20th – Lion's Tail Brewing
Green Bay Bus Tour??? – Stay tuned for details about timing (tentatively October) and sign-up!
We had a great turnout for the competition with 7 beer entries! Shane, Laurel, Steve, and Jody were kind enough to lend their official beer judging expertise in addition to the people's choice judging (those surly SOB members). There was a wide range of entries including a Blonde Ale, Cream Ale, Saison, Trappist Single, Witbier, Irish Red, and Specialty Fruit Beer. After hours of excruciating indulging of fermented beverages, the scores were tallied. Here's how those results looked:
Club Judging
1st place – Trappist Single – Logan
2nd place – Irish Red – Kurt W.
3rd place – Spiced Brown Ale – Kurt W.
Official Judging
1st place – Blonde Ale – Logan
2nd place – Witbier – Dawn
3rd place – Spiced Brown Ale – Kurt W.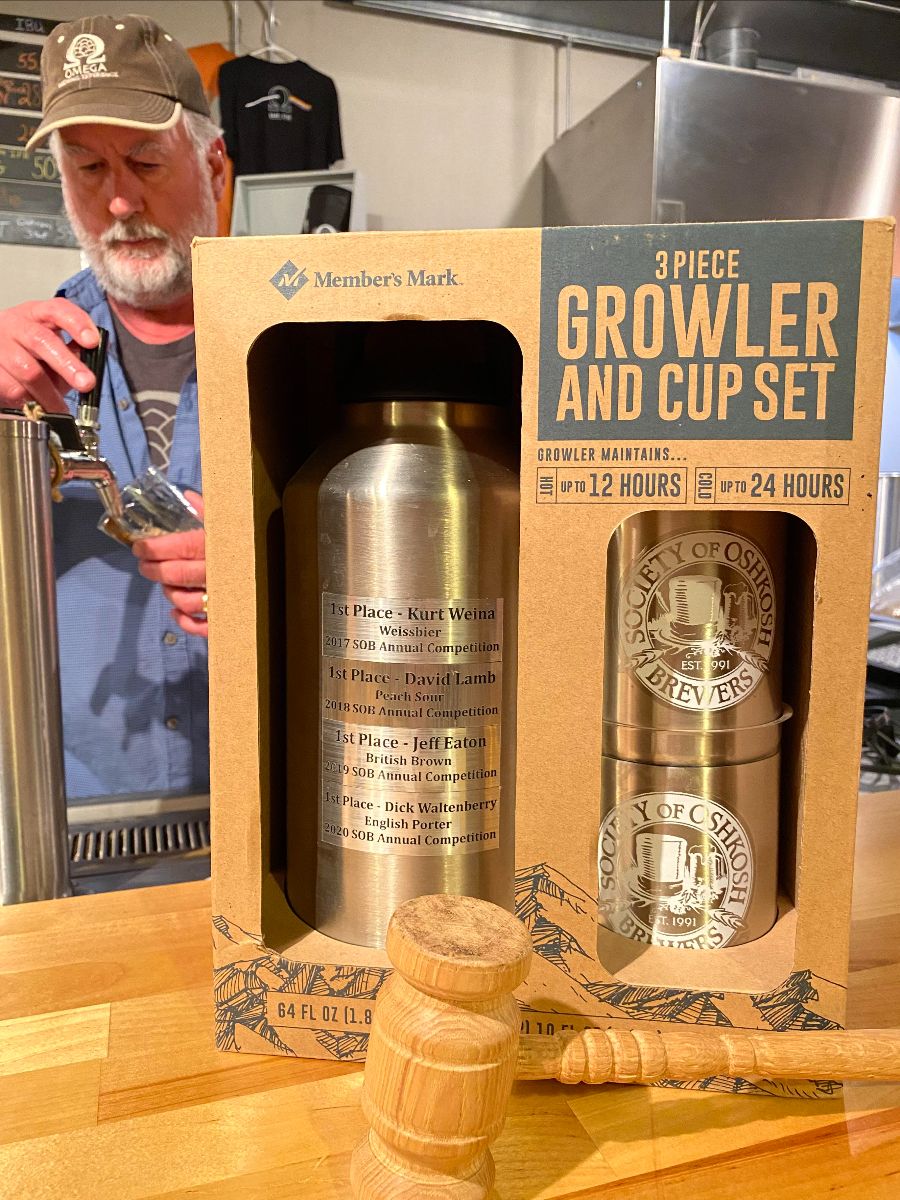 Congratulations to Logan for winning first place from both judging groups! Dick brought back the traveling SOB trophy growler and pint set so Logan and his Trappist beer will be added to the prestigious list of other winners on the growler. Steve at Omega will also be brewing Logan's award winning Blonde Ale!
Thanks to everyone who participated in not only judging, but also entering their beers. Participation like this keeps our club going strong and enjoyable to be a member. And special thanks to our official judges and Steve at Omega for hosting all of us rowdy SOB's!
See you at the August picnic.